Going Grain Free for Your Dog: Why and How to Transition to Grain-Free Pet Food
Grain free pet foods are becoming increasingly more popular. Do you have a pup that's always itchy? Or maybe your cat is experiencing digestive issues? Have you recently started eliminating grains from your diet and want to have your pets to follow the same healthy lifestyle? There are many reasons why as a pet parent, you might choose to try a grain free food.
If You're Considering Going Grain-Free:
Because grain free foods don't contain any fillers, you'll notice the first ingredient will be either chicken, salmon, beef or another meat, poultry or fish protein source. This is why grain free foods are higher in protein than traditional pet foods. While many pets thrive on being fed a higher-protein recipe, some pets may have digestive upset with the increase in protein. That's why we always recommend discussing any diet changes with your veterinarian first.
And not all grain free pet foods are created equal. It's important that a grain free food be well balanced, offering an accurate protein to fat and carbohydrates ratio. This will ensure high digestibility and optimum nutrient absorption. Wellness grain free recipes are always complete and balanced, so they're great for everyday feeding. We also include guaranteed levels of probiotics to help further support digestive health.
A good grain free recipe should also have natural sources of essential fatty acids like flaxseeds and other fruits and veggies as grain-free carbohydrate sources.
Here are some of the benefits you may see in your pet after going grain free:
-Healthy energy levels
-Soft, smooth skin and coat
-Maintenance or improvement of lean muscle mass
-Regular, fully-formed stools
-Potential clearing of food allergy symptoms (if pet has grain sensitivity)
How to Transition
Look for a reputable company that includes fresh fruits and veggies in their grain free recipes. (Like Wellness!) Some of our favorite grain free ingredients include superfoods like sweet potatoes and blueberries which provide antioxidant sources.
Make it a gradual transition – don't suddenly switch your pet's food as that can cause tummy aches. Instead, feed less of one food and replace it with another – over the course of at least a week.
See how your pet responds. Most people find that their dog's stools are harder and denser when they switch to a grain free food. That makes clean up easier.
Wellness has a large variety of grain free dog and cat foods and treats, including our new Wellness Complete Health Grain Free dry dog food. For protein-rich nutrition, there's also Wellness CORE dog and cat foods.
Do you have any questions about selecting a grain free recipe for your pet? Contact our knowledgeable Consumer Affairs team who can speak with you and make a recommendation: 800.225.0904, Mon-Fri, 8am-5pm ET.
You've probably heard of the slight obsession the Ancient Egyptians had with cats.  Historians are unclear exactly when the feline adoration began but there is evidence of a part woman/part cat Egyptian goddess named Bastet that dates to ancient times and there are plenty of cat statues. They even mummified their cats in order to preserve them for the afterlife.
One possibility why the Egyptians revered cats so much may be because they saw cats as protectors. As predators, cats routinely killed scorpions and other dangerous creatures who lived in the hot Egyptian climate.
Today's Housecat
Over the years, cats have taken on a different role. In today's United States, cats hold a position of prominence as a leading popular pet with approximately 30-37% of Americans sharing a home with at least one cat. Of course, like many pets, they're adored by their families.
While our cats may take care of an occasional mouse that infiltrates our homes, it's likely they spend far more time lounging in a ray of sunshine coming in through your window.  This is fine because they have other jobs to do in modern society – like lower your blood pressure.
Multiple studies show stroking a pet can reduce risk of cardiovascular disease. Researchers say it's a combination of factors including having something to care for and taking the time enjoy a little break in the day to appreciate your cat's silly antics. All of which disrupts stress signals to your brain and that's a good thing when it comes to your heart health.
You can thank your cat for his health benefits this August 8, International Cat Day.
How can you roll out the red carpet for your favorite kitty (or kitties?) We recommend special treats (of course) and taking time to pet your favorite feline. Catnip, a few rounds of chase the laser pointer or bat the feather  — can do both of you good. You'll laugh which is a great stress reliever and your cat will get some exercise. You can also help your kitty shed extra fur by gently brushing your cat to collect those loose hairs (and keep them from being left all over your house.)  Grooming your cat, along with feeding an approved Natural Hairball Control recipe will ensure your kitty stays happy and healthy year-round.
How will you celebrate International Cat Day?
What is DOGust you might ask? If you've ever shared your life with a rescue pup, you know you're not aware of their true birthday.  Sure, you can choose a date at random or use your adoption date as your rescue's special day. Either options are fine, after all, your pup isn't likely to have strong opinion either way.
But now there's another option. The North Shore Animal League  – the oldest no-kill shelter in the country, declared Aug 1 as DOGust, the universal birthday of shelter dogs everywhere. Which means, if your rescue doesn't have a birthday already, why not choose August 1?
To celebrate, they're having a great big party on August 1st at their Port Washington, NY headquarters and plenty of adoptions specials. Of course, you can also celebrate wherever you are.
3 Ways to Celebrate DOGust
1—Adoption – Adopting a new pup is the ultimate celebration, but we know that's not always possible. So in lieu of adopting, you can donate money and/or share available pets via your social media feeds. You may be able to help someone ELSE find the furry love of his or her life!
2—Pawty – You can choose to host a doggie birthday party with your dog loving friends in a fenced in yard. Since it is August and hot across most of the country, water games are appropriate. Kiddie pools filled with cool water, sprinklers and some DIY frozen treats will help ensure the pups don't get too hot! Play dates are great for sending everyone home with tired and happy dogs.
3—Share — Share your pet rescue photos on Facebook and Instagram. If you use the hashtag #DOGust, The North Shore Animal League will be sure to see them and will share via social media.
DOGust comes but once a year, how will you celebrate?
Summer is upon us, fellow pet lovers, and with summer comes lots of outdoor fun with our pets. However, depending on where you live, the summer heat can present many dangers to your pet. Pet owners can sometimes be oblivious to these dangers, which can result in many health risks for our furry friends. Keep your pet comfortable and safe this summer with these tips on how to beat the heat.
What Not to Do
With temperatures rising to potentially dangerous levels in the summer months, you have to be conscious of your pet's safety. In the hot summer months, these are some of the 'DONTS' to keep in mind when caring for your pet in the heat.
Never leave your pet unattended inside of the car. Honestly, it is never a good idea to leave your pet unattended in a vehicle for any length of time beyond a couple of minutes, but this is especially true in the event of extreme temperatures, whether hot or cold. The inside of a car on just a warm day can reach dangerous and fatal temperature levels, and it can happen within minutes! Print out this Humane Society flyer to disperse and help to educate your community.
Do not put a muzzle on a dog while they are out in the heat. There is a reason why dogs start panting when they get really hot – it is a natural way of controlling their body temperature. When you put a muzzle on a dog while they are out in the heat, you are preventing this natural process from occurring, which can lead to over-heating or heat stroke.
Do not leave your pet outside for extended periods of time during extreme heat. If it is too hot for you to be outside for an extended period of time, then you should consider it too hot for your pet as well.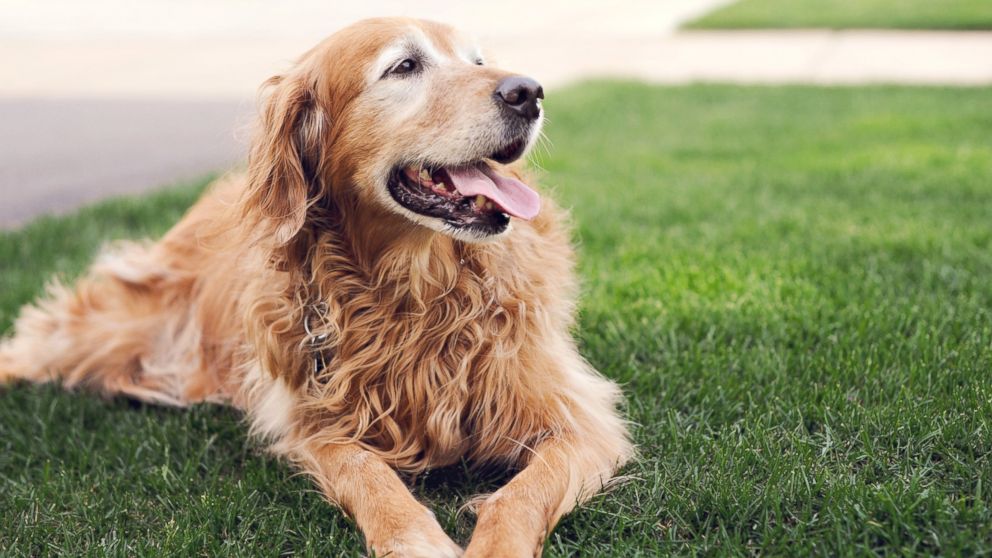 Warning Signs of a Heat Stroke
It is important to be aware of the signs that your pet may be in danger of a heat stroke. Some of these warning signs are –
Heavy panting
Difficulty breathing
Excessive thirst
Lethargy
Glazed eyes
Lack of coordination
Rapid heartbeat
Dizziness
Profuse salivation
Vomiting
Pets who are most susceptible to suffering from heat stroke are usually very old or very young, overweight, or pets not conditioned to prolonged exercise. Speaking of exercise, if you are out exercising with your pet and they suddenly insist on slowing down or laying down – this is a sign that your pet is over-heated or over-exerted. Listen to what your pet is trying to tell you. Here are some more helpful tips on recognizing the warning signs of a heat stroke. If you suspect that your pet is suffering from a heat stroke, move them to the shade or an air-conditioned area immediately, place ice packs or cold towels to their head, neck and chest and take them to the veterinarian as soon as possible.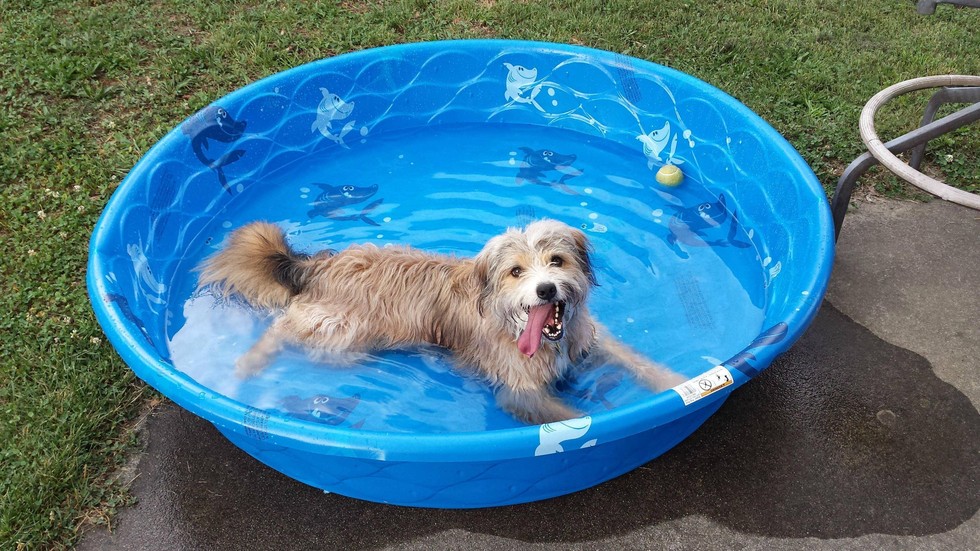 Tips to Consider
If your pet is going to be outside in the heat for any extended amount of time, be sure that they have access to plenty of water.
Do not assume that a dog house is a proper place for your pet to cool off in the heat. Dog houses are built to prevent air movement and can build up heat quickly.
When taking your pet out to exercise or walk/jog, be aware that the hot asphalt/concrete can be damaging to your pet's paws. You've walked barefoot on hot asphalt before, right?
The best way to cool down your pet is by placing cool water or cloths on their neck, pads of feet, or belly.
If you have a longer haired dog, consider getting their hair cut shorter in the summer months.
Now that you know how to keep your pet comfortable and safe in the hot, summer months – get outside and have some fun with your pet on those beautiful, sunny days. Just don't overdo it and stay cool – literally and figuratively.
The brainchild of Pet Sitters International, Take Your Dog to Work Day (TYDTWD) is an annual celebration of our dogs and their social natures. As you probably know, dogs are pack animals. Leaving them at home alone for long periods of time every day is against their natures.
And while growing evidence points to the fact that pup friendly offices are healthier workplaces,  not every office has embraced this point of view. That's why Take Your Dog to Work Day is great way to try it out. Plus, you'll get to meet your co-workers' four-legged friends– and that's always fun!
7 Ways to Prepare Your Office for a Puptastic Day!
1—Make Sure Everyone is On Board – If Take Your Dog to Work Day is YOUR idea, pitch it to your team/boss and make sure everyone embraces the idea. This is NOT the time for surprises.
Once you've all agreed, it's a good idea to put together a few guidelines for participants.
For example, it's not a good time to bring untrained or aggressive dogs to the office (is there ever a good time?) You'll also want to get a sense of how many dogs may come to work on June 24 and set expectations, will they roam free? Be leashed near your desk? What makes the most sense for both your office and the individual dogs?
2—Offer Distractions – Bring something for your dog to chew on. Non-squeaky toys and dog treats will give your dog a sense of a reward and occupy his mind. If your dog likes to sit in his crate or on a dog bed, bring those along. It will help your dog feel more "at home." Plus, if your dog has a crate and you need to run out for a meeting, you can simply close the door.
3– Plan a Walk — Is there a nearby park or walking trails where you can walk your dogs? Plan to team up with a co-worker or two for lunchtime dog walk. You and your dog need the fresh air!
In fact, studies show that people who take a short walk at lunch are more productive in the afternoon! It's something about the fresh air and sunshine.
4— Come Early – If your dog has never been to your office before (or if it's been awhile), she'll need time to sniff the surroundings before she can settle down. She'll probably also want to greet the other dogs.  Allow everyone time to get acquainted before you get settled into your day.
5– Water – Bring a bowl for water and make sure your pet has plenty of it.
6—Clean up Supplies – It's not uncommon for even the best trained dogs to have "accidents" in unfamiliar surroundings. Prepare yourself for clean ups and have extra supplies on hand.
7—Have a Plan "B" – If your dog just isn't gelling with the vibe – for whatever reason – be prepared to take him or her home. Office life isn't for everyone.
Take Your Dog to Work Day can be a fun way to bond with your co-workers (and your dog.) But every dog isn't cut out for a day at the office.  Know your pooch. Consider if yours is well-mannered enough to spend with you at work and if so, go for it!
As you know, Memorial Day is the annual salute to U.S. soldiers (both human and canine) and a traditional summer kickoff for outdoor fun. With 99 days of summer ahead of us, grab the sunscreen and your pet and let's make a plan!
Here Are 3 Ideas For A Dog-Loving Good Time This Memorial Day:
1—Stay Cool – Keep your pets cool. In many parts of the country, the weather is hitting summer time temps of 90 degrees or more. Keep your pets cool by offering them a kiddie pool full of water, ice cubes to munch or a bandanna dipped in icy water before wrapped around their neck.
These and a shady patch in a backyard will help keep your pets cool while they enjoy the festivities.
If you're planning to attend one of the many Memorial Day parades with your pet, make sure you take plenty of clean, cool water and a bowl for your dog to drink out of. You don't want your dog getting dehydrated.
2—Don't Feed Them From Your Plate – Please remind your guests NOT to feed your pets. Yes, dogs can make great beggars. But if you have half a dozen people feeding bits of this and that to your pet all day, you're likely to have a sick dog on your hands later. Not fun!
Instead, let your guests' lavish pets on your dog, not food.
If you're traveling with your pet, you can take along some special treats for your furry friends. Wellness brand dog and cat treats come in flavors ranging from salmon to lamb and apples and they're far better for your pet than random handouts.
3- Remember Safety – if you're boating over Memorial Day weekend with your dog, it's a good idea to put a doggie life jacket on him, whether or not your dog can swim. That way, if something happens, your dog stays safe.
You'll also want to have a special place for your dog to hide during fireworks time. Unlike humans, pooches don't embrace the fireworks. In fact, some are downright terrified. You probably know if yours is one of those dogs who'd rather hide under the bed and quiver than see the fireworks. If so, do you have a crate or special room for your dog to go when the fireworks start?
Whether you're traveling or staying home this Memorial Day weekend, there's plenty of opportunity for fun. What will you do?
We recently received a beautiful email from Ania about her dog Charlie's struggles to find a food she could eat, and the happy-ending gave us goosebumps!
Read the whole story:
My name is Ania, I'm 21 years old and I have a dog named Charlie. I got Charlie when she was four months old right with the passing of my mother due to brain cancer in June of 2014. She is my Emotional Support Animal (ESA) and she goes everywhere I do.
A month after I got Charlie she started to get very sick. Everything she would eat she would throw up or have constant diarrhea. It got so bad to the point where she was constantly dripping blood from her behind, had dry skin, her hair would fall out, constant ear infections, and my apartment was covered in puppy pads because of her constant sickness. She didn't even want to eat anymore. She became a bag of hair and bones and people would publicly comment that I didn't know how to take care of her. I tried changing her food so many times with different ingredients and took her to the vet to get her tested for everything possible; heart worms, parasites, cancer, and anything we could think of. I'm a full time college student and I used up every dollar of my savings to figure out what was wrong and turned to my dad for help when I ran out of money. I was miserable thinking I had to put her down. Charlie was the reason I started leaving the house by taking her to parks and started to feel like myself again after my moms passing. She's my best friend.
I started spending hours on the internet figuring out what could possibly be wrong with her. After repeatedly trying out new things, I figured out she couldn't have any gluten, wheat, beef, and most by-product fillers. I then came across your Wellness TruFood brand and gave it a go. What a miracle. Within two DAYS the bleeding stopped, her stool with firming, and she wasn't throwing up anymore. She gained all the weight she should have and she is the happiest dog I've ever seen. No more scratching, no more ear infections, no more sickness, and no more puppy pads. Best of all she actually likes it! Even if I just feed it to her dry. She has hair not fur and it is so soft and shiny to the touch as apposed to the dry brittle thin hair with bald spots she had. She loves every product from TruFood I give her.
Charlie herself was abused. She's terrified of children and it wasn't until she was a year old that she let the first person at the park pet her. Now she loves to play and run up to people and it brings me to tears knowing she's the happiest and healthiest she's been. She is so funny and makes me laugh everyday. I have never written a review or reached out to a company before, but I can honestly say that this food has saved my dogs life and in return improved my own. What an incredible brand with great ingredients. To whoever reads this, I just wanted to say thank you with all of my heart for saving my puppy, because she was able to recently see her second birthday and now with many more to come. I couldn't be more grateful for the amazing team at Wellness for creating this food!
Thank you forever,
Ania and Charlie
Are you an eco-minded pet parent? Get creative this Earth Month with one of these fun and easy DIY pet accessories, brought to you exclusively by recycling leader, TerraCycle! If crafting isn't your thing, you can still do your part to support the environment.
As the first US-based pet food brand to partner with TerraCycle, Wellness pet parents can recycle their pets favorite Wellness recipes for free, including our Wellness Complete Health dry recipes, Wellness CORE dry recipes and Wellness TruFood dry recipes for  both dogs and cats. Sign up here to get started, and you'll begin accumulating points for all you recycle–points that can be used to support your favorite non-profits!
Easy DIY Pet Accessories
Wellness Dog Cape
What You'll Need
Wellpet Dog Food Bag
clear packing tape
¼" flat elastic
Tools:
Instructions:
1. Start with a clean pet food bag, and cut the edges off.
2. Use your ruler to draw a trapezoid that is 6" wide at the bottom, 4" wide at the top, and 7.5" tall.
3. Fold over the narrow end, about .75"
4. Use a length of tape to keep the fold closed.
5. Cut a 17.5" strip of elastic.
6. Loop it through the fold on the cape.
7. Tie and adjust accordingly so it fits your pet!
Design Tip: Cut the bottom in a funky pattern!  Try a zig-zag or wavy shape! Super dogs super upcycle!
Collapsible Pet Water Bowl
Materials:
Wellness Pet Food Bag
4 velcro tabs
clear tape
Tools:
ruler
pen or marker
scissor
Instructions:
1. Start with a clean pet food bag. Flatten out the package and measure the width. Measure and mark lines on both ends to make the length of the wrapper the same size as the width. A 10" square or smaller will probably work best. Cut along your marked lines.
2. Mark a border 2" from the edge along each side of the square. Fold and crease firmly along this line. Unfold and flatten it.
3. Fold up two sides at one corner of the square. Make a diagonal crease from the corner to the folded border creating an upright triangle. Repeat this for all corners, then unfold them.
4. Take the Velcro tabs, unfasten them, and stick each one on either side of the corner of the square, one per triangle. Make sure that they will line up when fastened.
5. Fold up the bowl at the corners and press the hook and loop fasteners together. You are ready to dish up your pet's favorite snack in your new bowl!
Pet Treat Holder
Materials:
empty dog food bag
ruler
washable marker
Tools:
1 self-adhesive Velcro® fastener
Instructions:
1. Start with a clean, empty dog food bag. Cut a square that is 7 ½ inches on each side. Centered inside the square, draw a smaller square that is
3 inches on each side. This smaller square will be 2 ¼ inches from all edges.
2. On the top edge of the smaller square, draw a semicircle that hits the top of the large square and starts and ends at opposite corners of the small square. Repeat for the other three sides. Cut around these lines.
Pro tip: To give your treat pouch dimension, make an extra ¼ inch fold at the base of each semicircle.
3. Along the lines of the small square, fold all four semicircles towards the center.
Your piece should fold up to the size of the small square. Tape the bottom flap and two side flaps in place.
4. Attach one side of the self-adhesive Velcro® fastener on the inside of the top flap. Then, fold down the flap so the other side of the self-adhesive Velcro® fastener attaches to the outside of the bottom flap. Let the Velcro® fastener stick where it naturally landed after you folded the top flap down.
Fill your new treat pouch with your favorite treats for your favorite pet!