Your pet is a member of your family, and when it comes to his health care, it's important to look for the best. Whether you've just moved to a new place or you're looking to up the quality of your current animal care, there's much to consider in your pet's new doc. Keep in mind that this person should not only have a caring touch, but also be fully capable of handling any emergency situation that could arise. The hardest time to select a vet is when the need is urgent, so take the opportunity to scout around for the best choice now. Give yourself the peace of mind that no matter what happens with your buddy, you have a great veterinarian on call.
License and Accreditation: You certainly wouldn't visit an unlicensed doctor for your own healthcare, and your pet deserves the same. A professional license to practice in your state is required, and although a membership with the American Animal Hospital Association is not mandatory, it offers a step up in knowing your pet is in good hands. Additional training and certifications should be noted, particularly if your pet has specific health concerns that require specialized knowledge. Check your state's requirements and don't hesitate to ask for proof of certifications; responsible vets will have these clearly posted in their clinics.
Referrals: The best form of guidance can be found in the referrals of others. What do current (or former) patients have to say about the care they were provided at the veterinarian you are researching? Good and bad experiences should be noted, specifically those that made all the difference in the satisfaction of the client. How reasonable are the charges? How thorough are the examinations? Was the vet friendly, approachable, easy to talk to? These are all questions you should ask of those who have had their fur babies treated at the vet you are considering.
Connection with the Community: Pay attention to the vet's connection within the community, something that can be very telling determining the kind of person this vet is with animal care. Does the veterinary clinic provide discounted services to rescued dogs, or discounted fees for spaying or neutering a new pet? A caring vet will reach out to the community as an advocate for proper animal care, serving as an example of how to treat our constant companions with respect and kindness.
Personal Touch: Busy veterinarians can struggle with allotting the proper time for each pet, and it's not always easy to spend as much time as they would truly like to with your pet. However, a good vet will not lost the personal touch with your pet, regardless of how busy the day is or how many patients are waiting to be seen. Your pet is important, and you should never feel as though your visit is being rushed or that your concerns are being ignored. Sometimes an extra few minutes just to pet your dog or give him a special treat can make all the difference in both your pet's experience at the vet, and yours!
Diet and Exercise Knowledge: A great way to keep your pet from visiting the vet for more than an annual visit is to provide the right food and treats along with an exercise program, and a good vet recognizes these natural life and health boosters. Responsible vets are knowledgeable about the right program for your pet, and they advocate for proper diet and exercise.
Continued Education: The medical profession is constantly changing, with new and exciting updates in healthcare happening every day. The same is true for veterinary medicine, and a worthy veterinarian will consistently update his knowledge with new techniques and treatments. Many veterinarians receive regular training to keep skills fresh and learn about new options for animal care, and your vet should do the same.
Office Maintenance: Hospitals and doctor offices are kept sanitized and sterilized for a reason, and veterinary clinics should be no exception. Ask for a tour of a vet before signing your pet onto the registry; a worthy clinic should have no problem showing you everything from the kennels to the surgery, and everything should be clean and orderly.
Staffing Requirements: When your pet is being seen at an animal hospital, he comes into contact with many other members of the staff, and each of these individuals should be properly trained and certified. It's okay to ask the vet about his staffing requirements, what is required of each position, and who would be involved in the care and keeping of your best friend.
Office Hours and Location: Ideally, your vet is located close enough to be reached in an absolute emergency fairly quickly, and the office hours the vet keeps is critical as well. While many vets do not provide 24-hour service, they should at least provide the contact information for those who do. Routine treatments and annual visits need not be handled urgently, but when every second counts, you want a veterinarian who is on call and ready to handle any emergency.
The Most Important Vote: Trust your pet's instincts when it comes to choosing a vet. It is, after all, his doctor, and it should be someone that he trusts, even during times of sickness or injury. Of course your pet doesn't get the same excited feeling pulling in to the vet as he would the dog park, but there should be some level of "hey, I know these guys!" that puts your dog at ease. Your vet  and his or her staff should always try to make the experience as pleasant and comfortable for your pet as they can.
Take a few extra steps and check references, do your research and make sure a vet is the right choice for you and your pet. A little extra time spent in the decision can make all the difference in the health and happiness of your best friend.
Wellness accepted the Ice Bucket Challenge to Strike Out ALS! We're making a donation to the ALS Association from our WellPet Foundation and we encourage others to donate as well.
You can donate here. Thanks for watching!
Q. I have a 12 year old Bijon who has developed bladder stones and is now on a special food. We would love to give him treats, but have been unable to find any that would not harm him.  Can you make any suggestions?
There are many types of bladder stones and all are different and need to be addressed individually. The two most common stones are Struvite (magnesium ammonium phosphate) and calcium oxalate. Struvite is usually caused by infection and so using the proper antibiotic at the correct dosage for a sufficient time is essential. I would suggest working closely with your veterinarian to find a proper treat that won't negatively affect the action of the diet.
The treat should encourage acidity so I would suspect a predominately meat treat would work. The Wellness Small Breed Petite Treats Crunchy Mini-Bites are a meat-based treat that may work. Again, it's best to verify that your veterinarian feels comfortable with this option.
There's really nothing better than a dog. A true friend and companion, a trickster, a playmate, and often the life of the party, what would our lives be without our four-legged friends? The famous humorist Will Rogers once said, "If there are no dogs in Heaven, then when I die I want to go where they went." Dogs live to love us, so here's a few ways to return that love and show your best friend how much they mean to you.
Hanging Out with Your Buddy – Every day you have your routine, and it undoubtedly includes time spent away from home – at work, running errands or just living your life. But don't forget that you have a buddy at home whose whole life revolves around you. Of course you can't be with your dog all day, but it's important to make time to hang out with your dog every day.
Walks and Runs

: Every dog breed needs daily exercise, but do a little research on your pooch and make sure he is getting enough physical fitness every day. You're not only assuring your dog's health, but you're showing him that he's important enough to show off. And remember that it's his time to enjoy the outdoors, so be patient when he stops to smell the flowers.

Dog-friendly Outings

: Pet-friendly activities are popping up all over, so take a little time to research dog-friendly spots in your neighborhood and town. Many outdoor restaurants and more shops than ever are not only allowing you, but inviting you to bring your dog along for the fun. Call ahead to make sure, or check out Bring Fido, a great online search tool that highlights the best in dog-friendly spots, complete with user reviews and pictures.

At Home

: Long day at work or just feeling like keeping it local? Don't forget that even if you've had a busy day, your dog has been busy waiting for you to come home, so don't forget to give him some attention. Throw a favorite toy, play a game of hide and seek, or set up a doggy treat hunt in your home.
Taking Care – You watch what you eat, have good hygiene and have regular checkups with your doctor, so why wouldn't you want the same for your dog? One of the best ways to love your dog? Making responsible choices when it comes to their everyday health.
Food:

Your dog's diet can determine not only the longevity of his life, but also the quality. Dogs don't judge their food in calories or health benefits, so it's up to you  to make good choices with what to put in his bowl. Read the bag, check the ingredients, do your homework, because don't you want to have your best friend around as long as you can? You want a food that has real meat, fruits and vegetables; not fillers, and the artificial flavors or colors have to go. Choose a diet suitable for your dog's breed and stage of life; Wellness Pet Food makes it easy to make the right choice for your dog.

Grooming:

Can you imagine what your hair would look like if you didn't brush it for months and you only got a haircut every couple of years? Or what if you never trimmed your fingernails or brushed your teeth? If you wouldn't neglect your own hygiene, why would you neglect your dogs? Not only does poor grooming cause your pet discomfort, but some factors, like not regular teeth-brushing, can pose serious risks to his health.

Vet Care:

Regular veterinary care for your dog is part of being a responsible owner, and this includes two exams a year at the minimum. Stay up to date on vaccinations (most importantly for distemper, parvovirus, hepatitis and rabies) and visit the vet if your buddy is injured or shows lingering signs of sickness.
The Special Treatment - Hopefully you have lots of opportunities to show your dog a special reward; he didn't chase the mailman at lunch, or you left your brand new shoes out all night and not a chew mark to be seen, or maybe it's your dog's birthday. Whatever the reason for celebration, here are some ways to give your buddy the special treatment.
Dog Massage:

Sure, that can sound a little strange at first, but dogs, especially dogs with more than a few years under their collars, can reap the benefits of a good massage. Massage can be calming in times of anxiety, relieve joint stiffness in arthritic dogs, or even provide a warm-up for athletic dogs before play. This article in Modern Dog Magazine has some great tips on how to give the right kind of massage for your dog's health.

Treats:

Treats are often the go-to choice for rewarding your dog, but if you truly love your pooch, you will only give treats with the right ingredients and offer these kind of tasty rewards in moderation. Choose the right dog treats, tailored to your buddy's diet and health needs, and save treats for times of excellent behavior, not to be given as a 'guilt treat' for when you have to leave the house.
There's a saying that goes, "Dogs may not be our whole lives, but they do make our lives whole." Dogs spend their waking moments vying for our attention and hoping to show us how much we are loved. Take time for your dog today and show him just how lucky you feel to have him in your life. Make your pet be happy, healthy and well.
Embrace your favorite mutt! Whether long-haired with pointy ears or short-furred with a stub of a tail, mutts nuzzle their way into our hearts as much as any purebred pooch.
Pet expert and advocate Colleen Paige created National Mutt Day as a biannual event (July 31 and Dec. 2) to recognize the lovable mutts waiting for their forever homes at crowded animal shelters around the country.
Every year, thousands of animals are euthanized due to overpopulation and she wanted to do something about it. In 2005, she founded National Mutt Day as a day to recognize those animals and raise awareness to the problem of pet overpopulation.
What Can You Do?
• Consider adoption instead of buying your next pet and donate time and/or dollars to a local animal shelter.
• Get your pet spayed or neutered to help prevent pet overpopulation.
• Donate old towels and bed linens to an animal shelter.  The animals will appreciate having a soft bed to lie on.
• If you can, volunteer at the animal shelter. You can walk dogs, foster pups or maybe help organize events like a Mutt Day Celebration!
Benefit of Mutts
-In addition to the good feelings that come with knowing you've saved a life, mixed breed dogs have an advantage over purebred pooches.  Studies show they can often live longer, healthier lives.
-They're devoted. Many people believe that rescues are extra grateful to their pet parents, as if they know they were saved. And, maybe they do.
Celebrate Your Mixed Mutt
Whether you call them "mix", "mutt" or "Heinz 57",  these dogs each deserve a  loving home where their biggest concern is which patch of sun to lie in.
Why not take your favorite mutt for an extra-long walk in honor of Mutt's Day? Maybe even sneak in some extra cuddle time and a special treat.
Long live mutts!
Is your pet a mutt? Share your photos on our Facebook page!
Ah, the lazy days of summer are here. Why not make some fun summer memories with your pooch?
Here are 10 fun ideas for you.
1— Go for a long walk early – Whether you like to hike or simply stroll the city streets with your pet, take him or her out for an extra-long walk.  Just make sure you do it early before it gets too hot. You'll both benefit from the increased exercise.
2- Pack a picnic (for both of you) - Take your dog to a relaxing outdoor setting and enjoy a meal together.
3— Freeze a bandanna—Soak a bandanna in cold water and put it in the freezer for a couple of hours. On really hot days, you can tie it around your dog's neck to help him cool down. This can help keep your pet safe on stifling summer days.
4— Hold a photo session—Whether it's in your backyard or at a local park, get your pup posing for fun memories. If you really want to take it up a notch, hire a professional pet photographer.
5—Take your pet to the pet store—Let her pick out a new toy. Does your dog prefer chasing balls or destroying stuffed animals? Show her a couple of toys and let her choose.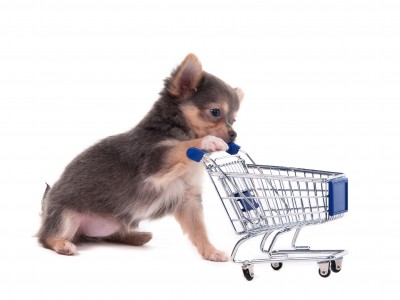 6—Take your dog on vacation – Beach or mountains? No matter which you prefer, there are tons of pet-friendly options to choose from these days. Just make sure to make a reservation since it's a busy time of year.
7— Try a dog activity you've never done – Dog Agility Courses or Canine Freestyle (dancing with your dog) are fun options.  Who knows, you might find a new hobby!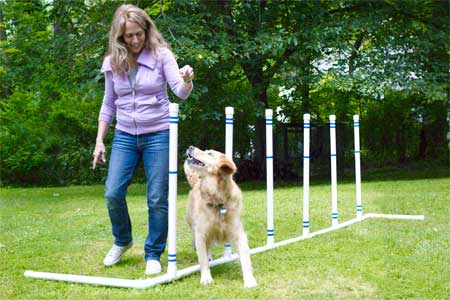 8–  Hunt for buried treasure –Geocaching is a fun activity where you use a GPS to locate hidden treasures near you.
9-Sprinkler fun – Set up a sprinkler on a hot day and watch your dog go wild with excitement.
10- Host a backyard pawty. Do you have a fenced in yard? If so, invite a few friends and their canine pals. Plan a few games like "Find the Treat" where you hide treats around the yard. You could even set up a simple obstacle course with a few cement blocks and boards for something to jump over. Add a wading pool at the end for water-loving pooches to cool off.
So there you, 10 fun ideas for you and your dog.  Which will you do this summer?
Q. What is the best Wellness food to feed a 6-yr-old Portuguese Water Dog who needs to lose weight? What supplements might I try for joint health?
A. Wellness Complete Health Healthy Weight is a good choice for helping your dog lose weight, in addition to regular exercise. It has fewer calories per cup than other Wellness Complete Health recipes, and offers increased levels of fiber to help satisfy appetite. It also contains glucosamine and chondroitin to support joint health.
Before you start a weight loss plan with your dog, you may want to check in with your veterinarian. It's best to take an initial weight and develop a goal. You can begin feeding according to the feeding guide on the bag (or alter based on veterinarian recommendation) and weigh your pet each week. If your pet is not losing weight, reduce the amount fed each day. If your pet losing weight at a rate greater than 2% per week, increase the amount fed to avoid losing too much too quickly.
Regular, daily exercise is essential in order to maintain weight loss. In addition, exercise keeps the muscles toned which also supports the joints and reduces discomfort. To ease your dog into regular exercise, avoid activities that are overly strenuous. A daily walk is a great form of exercise.
It's National Adopt a Cat Month! You can read more about cat adoption here. In honor of this special month, we're hosting a giveaway and donation to an animal welfare organization. To enter, simply comment on this Wellness Natural Pet Food Facebook Post and share your cat adoption story. On June 30th we'll be announcing a winner who will receive a Wellness Cat Prize Pack! In addition to receiving a prize pack, Wellness will make a donation of $250 to the animal charity of the winner's choice. This is a great opportunity to spread the word about pet adoption and to help raise money for an organization that you're passionate about.
Comment here to enter!
Some workplaces are doggie-friendly year round while others wait for the annual event to make pooches welcome in the office. Here at Wellness, we're lucky enough to get to bring our dogs to the office once a month. But one of our favorite office holidays is National Take Your Dog to Work Day which takes place this year on Friday, June 20. On this day, we offer special services for spoiled pooches such as doggie massage and grooming. Plus, if the weather is nice we spend plenty of time outside with our pups, letting them meet and greet with each other, play fetch, and explore the lovely office grounds.
If you'd like your pooch to participate in Take Your Dog to Work Day on June 20st, these are some things to consider:
1)      Make sure your workplace is participating. Talk with your supervisor and co-workers to make sure everyone's onboard before you show up with Max. Some offices will want to see proof of vaccinations or may have other paperwork for you to fill out ahead of time.
2)      The temperament of your pet. Some dogs (and workplaces) are better-suited than others. For example, if your dog is aggressive toward strangers, or gets intimidated and overwhelmed by other dogs, you may want to leave him at home. On the other hand, if your dog likes meeting new people and dogs it should be a good match. What about your dog's energy level? Depending on what type of workload you have, it may not be best to bring your pup into the office if he'll be pacing all day and yearning to get outside.
Once you have the OK:
3)      Doggie-proof your workspace. Your dog might want to chew on hanging cords or mistake that stack of files for a bathroom location. Spend a few minutes relocating plants and cleaning up books, papers, stray markers and anything else that may look tempting. It's also a great idea to bring a baby or pet gate along with you to keep at the entrance of your office/cube while your pup is there.
4)      Give your dog a bath or have him groomed a day or two beforehand. A clean dog is always appreciated, and will look extra charming in those office photos!
5)      Bring bowls, food and treats. Your dog will get hungry, just like you. Plus, treats can be a good motivator to reclaim your pet's attention if he's excited.
6)      Bring a towel or your pet's favorite dog bed. This will cue her to settle in and relax.
Allow a few extra minutes at the start of the work day to allow your dog to smell the surroundings and get comfortable with the environment. Put out a bowl of fresh water, arrange your dog bed and let your co-workers greet your pet. Once the initial excitement is over and everyone settles down, your dog should too.
Studies show dog-friendly workplaces can reduce stress, enhance employee interactions and boost morale.
Here are some fond memories of past Take Your Dog to Work Days at WellPet—enjoy!:
Q. I have our puppy on Wellness® CORE Grain Free Puppy Formula. She is a  6-month-old Shih Tzu who's doing great on this food. What do you recommend to put her on as an adult and when?
A. The Wellness® CORE Grain Free Puppy Formula is an ideal grain free recipe for a small breed puppy and should work well until your puppy turns one.  At that time you might want to consider switching to the  Wellness CORE Grain Free Small Breed Adult recipe which has the same basic proteins and fat as the puppy diet. Usually adults don't need as many calories as pups, so the Small Breed Adult has less fat and therefore less calories to help your dog maintain lean muscle mass.