Q. My dog has a mast cell tumor and I am trying to decide what food is best for her to be on. The vet suggested a low carbohydrate, low grain diet. Is there one you would recommend?
A. High carbohydrate recipes are known to support cancer cells, while a lower carbohydrate diet works to fight  the diseased cells. For this reason, feeding a diet that is lower in levels of carbohydrates is recommended. Wellness CORE Original Formula would be a great recipe to try as it is lower in carbohydrates. Adding additional antioxidants would also be a good idea, one way would be with our Wellness CORE Superfood Protein Bars. I recommend talking to your veterinarian about certain supplements that have been shown to slow the process of some cancers.
Cancer is the most common cause of death for our pets. While a good diet and a healthy lifestyle can help prevent all types of illness, it's best to closely monitor your pet's health in order to pick up on early warning signs of disease.
Diagnosing pet cancer requires a thorough veterinarian and medical testing, however, the following symptoms indicate that your pet may not be feeling well, and may indicate something more serious.
Here are 5 Signs of Illness in Your Pet (Sometimes Cancer-Related):
1—Lumps – As pets age, they will sometimes develop non-cancerous skin growths and other lumps and bumps. While many times these growths end up being benign, they can sometimes be a sign of lymphoma or a skin cancer. A trip to the vet will ease your concern, as your vet will run a needle biopsy or another test if she suspects an illness.
2—Unexplained weight loss – If your pet is losing weight, but his or her diet and exercise patterns haven't changed, you may want to take your pet in for a check-up. Your vet may want to rule out cancer and will help you get to the bottom of the unexplained change in weight.
3—Unusual odors – If your pet has unpleasant odors coming from his or her mouth, ears or anal glands, this could be a sign of cancer in those areas. While these symptoms could also indicate an infection, your veterinarian will examine the areas in question and make recommendations for next steps.
4—Change in bathroom habits—Difficulty going to the bathroom, an increase in bathroom frequency or "forgetting" the approved bathroom locations can be signs that your pet is ill. Keep in mind that a move or other stressful life change can also affect bathroom habits, however it's best to discuss the issue with your vet.
5—Lethargy – If your pet is no longer excited to go for walks or rides in the car, or is sleeping more often than usual,  it's time for a trip to the vet. Any illness is likely to leave your pet feeling less than stellar, so while it may not be cancer-related, you won't know until you go in for a visit.
Remember, just like with humans, diet, exercise and a healthy lifestyle play a role in disease prevention. You have the best chance of catching an illness early and resolving it if you pay attention to changes in your pet's behavior and take him or her to the veterinarian regularly. Early detection can make all the difference.
Earth Day is an annual holiday that encourages us to respect and care for the home we all share. This year, we challenge you to consider your four-legged friends when making your Earth Day resolutions.
7  Ways to Celebrate Earth Day Year Round with Your Pets
1—Recycled pet toys – From cat trees to stuffed animals, there are tons of pet toys made from bottles, paper and other materials salvaged from the landfill. One great option, the Kitty Scratch Pole, is made in the U.S.A. from recycled materials and can be used indefinitely by replacing the refillable, recycled cardboard discs that come with it.
2- Pet-friendly shampoo – There are dozens of pet shampoos on the market, but the eco-friendly option is to choose a pet shampoo made with natural ingredients which are safer for the environment and for your pet.
3-Use biodegradable bags—Grocery bags take hundreds of years to break down in the landfill. Using biodegradable waste bags is the more earth-friendly option. If you can compost the waste–that's all the better.
4—Clean with vinegar – Max have an accident indoors? Grab the white vinegar to clean up. Vinegar and baking soda are time honored cleaning products. You'll reduce your use of harmful chemicals and get the job done effectively.
5—Take your dog for hike—Most dogs love to get outside, enjoy some new sniffs and meet new friends. If hiking isn't possible, go to a dog-friendly park and enjoy the Spring air.
6—Clean out your closets – Donate old towels, blankets and bedding to a local animal shelter. The animals and volunteers will thank you.
7–Choose quality food – When your pet eats nutritious food, more of the nutrients are used within the body which results in less waste.
What are your favorite earth friendly ways to celebrate Earth Day? We'd love to hear your ideas on our Facebook Page.
Today, cats are living longer lives thanks to improved veterinary care, better nutrition, and a heightened awareness of pet health and safety. As your cat approaches his or her senior years, it's a good idea to learn what to expect so you can detect potentially serious health issues, as well as make adjustments to the way you care for your cat to ensure his or her comfort throughout the aging process.
Is Your Cat Considered a Senior?
According to the American Animal Hospital Association, you should begin senior care considerations when your cat reaches the age of seven. It's recommended that healthy senior cats visit the veterinarian every six months. Regular veterinary visits are best way to catch diseases early and find a way to resolve them.
Physical and Behavioral Changes in Senior Cats
Aging cats experience many changes, so their mental and physical behavior may reflect those changes. Oftentimes, the normal signs of aging closely mimic symptoms of potentially serious conditions, so it's always a good idea to report any significant changes to your veterinarian.
Here are several common changes in senior cats:
-Playing for shorter amounts of time, or sleeping for more hours in the day
-Not jumping as far, or hesitating when jumping
-Thinning or graying of the coat
-Changing appearance of the eyes including a slight haziness of the lens
-Changes in personality including increased or decreased vocalization, increased dependency on humans and avoidance of social interactions. Some of these changes may be attributed to the aging of the brain/memory loss
-Hearing loss
-Bad breath or dental issues
-Changes in litter box habits
Remember, many of the changes you may see in your aging cat could be related to an underlying medical condition so it's best to ask your veterinarian about any questions or concerns you may have. The sooner you catch a health ailment, the better chance you have of curing it or managing it safely.
How to keep your aging cat healthy and happy:
You can help your aging cat to stay happy and healthy by following these tips.
-Give your cat regular exercise: Pay attention to your cat's changing energy levels. Even though your cat is getting older, regular exercise will help keep your cat at a healthy weight, and it will also increase circulation and assist in maintaining lean muscle mass. To make sure you don't overwork your cat, limit your play sessions to ten minutes, a couple of times a day and adjust to less or more as needed. If your cat seems to tire easily or experiences any breathing issues, consult your veterinarian.
-Brush your cat regularly: As cats get older, they may not be able to digest foods and hair (from grooming) as easily as they used to; this could mean an increase in hairballs. Help to prevent hairballs by brushing your cat once a day. Brushing also helps keep skin healthy. With your brush, you can help your cat groom those hard-to-reach areas that they may be missing.
-Maintain a Healthy Diet:
Many cats, like people, will experience a slowing metabolism as they age, while others find it difficult to keep weight on. Start your cat on a natural recipe specifically formulated for the nutritional needs of senior cats. Wellness Complete Health Senior Health is a good option. It has tailored levels of fat and fiber to support an aging cat's digestive system, and it includes the WellFlex® Hip & Joint Support Sytem that helps keep cats' joints supple and limber. Wellness Senior Health is also packed with phytonutrients which may aid in disease prevention, slow the aging process and help boost your cat's overall immunity.
Limit Stress and Keep Them Cool: Senior cats are not able to regulate their body temperatures as effectively as younger cats. Make sure to keep your cat cool in the summer to avoid heat stroke, and offer a warm blanket or heated cat bed in the winter for comfort. Senior cats may not adapt to change as easily as they once did, so it's helpful to minimize their stress whenever possible. If you're introducing a new pet to the family, be sure to take extra precaution to give your senior cat his or her own space, and alleviate stressors such as moving to a new house with extra affection during those trying times.
Although being a pet parent to a senior cat may be challenging in some ways, there are many things to be appreciative for as well. Each year spent with your cat only strengthens the bond you two have with each other. And rather than bouncing off the walls, older cats often display a unique wisdom and mellow, patient personality that really shines as they reach their golden years!
Q. My standard poodle has a sensitive stomach. She often has diarrhea. I've had her checked for worms and she does not have them. What could this be?
A. There are some dogs that have what has been called a "sensitive stomach." It is a very general term that can suggest that the dog seems sensitive to something in the diet or changes in the diet. This is usually expressed as intermittent vomiting and/or diarrhea.
Many times, the issue is an intolerance to an ingredient in the diet. It is not an allergy, but rather a non-immune mediated reaction to an ingredient in the diet. Allergies are to a particular protein, whereas a food intolerance can be caused by anything in the diet.
Feeding a natural pet food with limited ingredients and a single unique protein would be a possible solution to the problem. The Wellness Simple formulas are an ideal option to try. There are four diets each containing different ingredients as well as some natural supplements such as probiotics and Omega 3 fatty acids, both of which can help to resolve digestive issues. Keep in mind that with any dog experiencing digestive issues, a very slow transition (10-14 days) to the new food is always recommended.
March is Poison Prevention Month – Are These Common Items Lurking within Your Pet's Reach?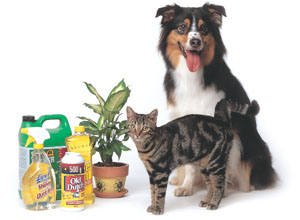 From food to plants, there are dozens of common household objects that can be poisonous to your pets. Pet proof your home with these precautions.
1—Household Cleaners — Keep household cleaning products out of reach. From a curious kitty opening and chewing up dozens of wipes or a puppy opening a cabinet and getting into the floor cleaners, there are many "interesting" things we don't want our pets ingesting.  Keep the cleaning products up high or behind a locked cabinet.
2—Plants – Lilies, Azaleas, Daffodils, and English Ivy are a few plants your pets shouldn't chew on. Keep bulbs out of their reach too. You can see a full list at the Humane Society.
3—Potpourri and Candles– They may smell good but, but they could irritate your pet's nose, cause a burn, or make them sick if ingested. Keep scented products firmly out of reach of curious paws and noses.
4—Medicines— "Child proof" containers don't necessarily mean "pet proof". A bored pet could chew right through a pill bottle, never mind those sheets of pills with only a thin layer of plastic and foil.  Keep all medications well out of Fido's reach.
5—Certain Foods—Chocolate, macadamia nuts and onions can all wreak havoc on your pup's digestive system. Don't forget that chewing gums or mints sweetened with xylitol can be lethal to pets.
6—Citronella Candles – No candles are good chew toys but citronella can give our furry friends a tummy ache.

7—Ice Melters – Some of these these are labeled "pet friendly" which means it has less of the harmful chemicals in them than others but none are something you want your pet eating. Be sure to wash your dog's paws after a winter walk.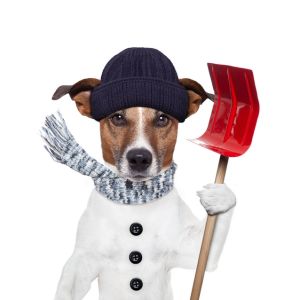 8–Cocoa Mulch – True to its name, this mulch has cocoa—elements of chocolate–in it. If you have pets who spend time in the yard and you plan to mulch, you'll want to avoid this one.
9—Fabric softener sheets – Think of the fun your pet can have in pulling one after another out of the box, then chewing them up. This is not good. Fabric softener is full of chemicals your pets are better off not ingesting.
10—Traps– Rat poison, ant traps, roach motels…if within reach of a curious pet, all of these pose hazards to your pet's health. Be careful with them.
It's a good idea to periodically give your house the once over and make sure the obvious things are out of pet reach. If you're preparing for a new pet, you'll want to be especially stringent.
If you know your pet has ingested something questionable or is acting woozy, call the ASPCA
Animal Poison Control Center for guidance.
Our Consumer Affairs team speaks with many Wellness Pet Food fans each day. Whether it's addressing a concern, recommending a product or passing along a suggestion for a new recipe, they do it all. The team does a great job, and we all love receiving your feedback. Recently, we've had the opportunity to take some of your  ideas and make them a reality. We've added exciting new Wellness lines, as well as extended several existing Wellness lines. Here's a complete recap of our new products:
Wellness Kittles™: Delicious, Crunchy Grain-Free Cat Treats
Who says dogs have all the fun? Indulge your cat with Kittles™ natural, grain-free treats. Kittles™ are crunchy cat treats that come in three scrumptious flavors: Salmon & Cranberries Recipe, Chicken & Cranberries Recipe, and Tuna & Cranberries Recipe. Each morsel also has under 2 calories,so pet parents can treat their loved ones multiples times per day with these guilt-free goodies. Learn more!
Wellness CORE Superfood Protein Bars: Grain-Free Dog Treats
Perfect pairings of hearty proteins, CORE Superfood Protein Bars feature delicious superfoods. No Meat By-Products, 100% All Natural & Grain Free, No Artificial Colors, Flavors or Preservatives, Only 16 Calories Per Treat, Made in the U.S.A. Learn more.
Wellness Toy Breed Complete Health Dry Dog Recipes: Small Kibble, Big Nutrients
Toy breeds have higher energy needs and don't have the same metabolic rate, bite size, or daily caloric intake as bigger dogs. Wellness Toy Breed dog food features a small kibble size for tiny mouths and a crunchy texture to target plaque build-up and maintain oral health. Wellness Toy Breed recipes offer the right balance of protein, fat and calories to provide the energy your little one needs. Omega Fatty Acids are included to support healthy skin and a shiny coat. Learn more.
Wellness Simple Limited Ingredient Diets: Healthy Weight and Small Breed Recipes
Five of the 10 most common reasons dogs visit the vet can be food allergy or intolerance related. Our Simple Limited Ingredient Diets offer a single source of high-quality protein, and now you can maintain your dog's weight while keeping food sensitivities in check with the Wellness Simple Healthy Weight Salmon & Peas Formula
Wellness Complete Health Dry Cat: Senior Health and Chicken-Free Indoor Health Recipes
The Complete Health Senior Health recipe provides the ideal balance of nutrients for aging, more sedentary cats, while the Complete Health Indoor Health Salmon & Whitefish Meal Recipe offers a poultry-free option for seafood-loving cats.
Wellness Small Breed Complete Health Whitefish, Salmon Meal & Peas Recipe
With mighty souls but little bodies, your small breed dog has a unique physical composition that creates special nutritional needs. Our Small Breed Complete Health Adult Whitefish, Salmon Meal & Peas Recipe is designed to support the unique health needs of smaller dogs through nutrient-rich whole foods. Learn more about this new poultry-free option.
Are you wondering if your dog is a toy breed dog? There are currently 21 recognized toy breeds (according to the AKC), typically weighing 12 pounds or under. Toy breed dogs have different nutritional requirements than large breed and even small breed dogs. With higher energy levels, toy breeds need a food that's higher in protein, fat and calories. Also, tiny toy breed mouths cannot easily chew or digest regular-sized kibble; they need the smallest kibble available.  If this sounds like your dog, you can have them try these yummy Wellness Toy Breed Complete Health dry recipes. Browse the toy breeds below:
Mighty Souls and Tiny Bodies, Toy Breed dogs really do have a style all their own. Insistent on sleeping on Dad's pillow, and content with accompanying Mom on her errands in a fashion-forward doggy tote, Toy Breed dogs never stray too far from their pet parents. In honor of the new Wellness Toy Breed dry dog line, we'd like to introduce you to 10 of the cutest Wellness Toy Breed pups!
1. Guinness the Chihuahua & Chinese Crested Mix
2. Anthony the Chihuahua
3. Cookie Bear the Maltipoo
4. Cooper the Pomeranian
5. Coco the Havanese
6. Murdock the Frenchie
7. Roxy the Maltese
8. Tito the Chihuahua
9. Pocky the Yorkie
10. Quincy the Frenchie