Ah, the lazy days of summer are here. Why not make some fun summer memories with your pooch?
Here are 10 fun ideas for you.
1— Go for a long walk early – Whether you like to hike or simply stroll the city streets with your pet, take him or her out for an extra-long walk.  Just make sure you do it early before it gets too hot. You'll both benefit from the increased exercise.
2- Pack a picnic (for both of you) - Take your dog to a relaxing outdoor setting and enjoy a meal together.
3— Freeze a bandanna—Soak a bandanna in cold water and put it in the freezer for a couple of hours. On really hot days, you can tie it around your dog's neck to help him cool down. This can help keep your pet safe on stifling summer days.
4— Hold a photo session—Whether it's in your backyard or at a local park, get your pup posing for fun memories. If you really want to take it up a notch, hire a professional pet photographer.
5—Take your pet to the pet store—Let her pick out a new toy. Does your dog prefer chasing balls or destroying stuffed animals? Show her a couple of toys and let her choose.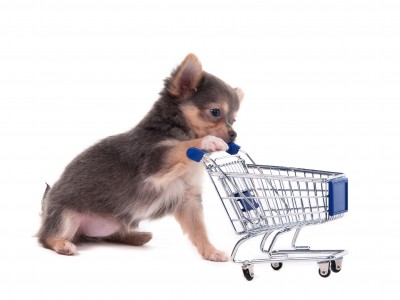 6—Take your dog on vacation – Beach or mountains? No matter which you prefer, there are tons of pet-friendly options to choose from these days. Just make sure to make a reservation since it's a busy time of year.
7— Try a dog activity you've never done – Dog Agility Courses or Canine Freestyle (dancing with your dog) are fun options.  Who knows, you might find a new hobby!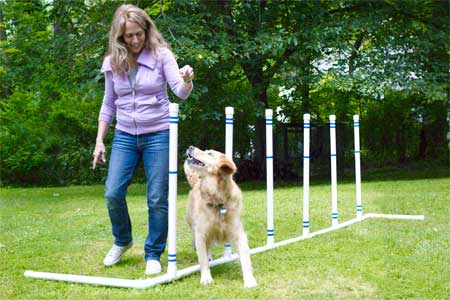 8–  Hunt for buried treasure –Geocaching is a fun activity where you use a GPS to locate hidden treasures near you.
9-Sprinkler fun – Set up a sprinkler on a hot day and watch your dog go wild with excitement.
10- Host a backyard pawty. Do you have a fenced in yard? If so, invite a few friends and their canine pals. Plan a few games like "Find the Treat" where you hide treats around the yard. You could even set up a simple obstacle course with a few cement blocks and boards for something to jump over. Add a wading pool at the end for water-loving pooches to cool off.
So there you, 10 fun ideas for you and your dog.  Which will you do this summer?
Q. What is the best Wellness food to feed a 6-yr-old Portuguese Water Dog who needs to lose weight? What supplements might I try for joint health?
A. Wellness Complete Health Healthy Weight is a good choice for helping your dog lose weight, in addition to regular exercise. It has fewer calories per cup than other Wellness Complete Health recipes, and offers increased levels of fiber to help satisfy appetite. It also contains glucosamine and chondroitin to support joint health.
Before you start a weight loss plan with your dog, you may want to check in with your veterinarian. It's best to take an initial weight and develop a goal. You can begin feeding according to the feeding guide on the bag (or alter based on veterinarian recommendation) and weigh your pet each week. If your pet is not losing weight, reduce the amount fed each day. If your pet losing weight at a rate greater than 2% per week, increase the amount fed to avoid losing too much too quickly.
Regular, daily exercise is essential in order to maintain weight loss. In addition, exercise keeps the muscles toned which also supports the joints and reduces discomfort. To ease your dog into regular exercise, avoid activities that are overly strenuous. A daily walk is a great form of exercise.
It's National Adopt a Cat Month! You can read more about cat adoption here. In honor of this special month, we're hosting a giveaway and donation to an animal welfare organization. To enter, simply comment on this Wellness Natural Pet Food Facebook Post and share your cat adoption story. On June 30th we'll be announcing a winner who will receive a Wellness Cat Prize Pack! In addition to receiving a prize pack, Wellness will make a donation of $250 to the animal charity of the winner's choice. This is a great opportunity to spread the word about pet adoption and to help raise money for an organization that you're passionate about.
Comment here to enter!
Some workplaces are doggie-friendly year round while others wait for the annual event to make pooches welcome in the office. Here at Wellness, we're lucky enough to get to bring our dogs to the office once a month. But one of our favorite office holidays is National Take Your Dog to Work Day which takes place this year on Friday, June 20. On this day, we offer special services for spoiled pooches such as doggie massage and grooming. Plus, if the weather is nice we spend plenty of time outside with our pups, letting them meet and greet with each other, play fetch, and explore the lovely office grounds.
If you'd like your pooch to participate in Take Your Dog to Work Day on June 20st, these are some things to consider:
1)      Make sure your workplace is participating. Talk with your supervisor and co-workers to make sure everyone's onboard before you show up with Max. Some offices will want to see proof of vaccinations or may have other paperwork for you to fill out ahead of time.
2)      The temperament of your pet. Some dogs (and workplaces) are better-suited than others. For example, if your dog is aggressive toward strangers, or gets intimidated and overwhelmed by other dogs, you may want to leave him at home. On the other hand, if your dog likes meeting new people and dogs it should be a good match. What about your dog's energy level? Depending on what type of workload you have, it may not be best to bring your pup into the office if he'll be pacing all day and yearning to get outside.
Once you have the OK:
3)      Doggie-proof your workspace. Your dog might want to chew on hanging cords or mistake that stack of files for a bathroom location. Spend a few minutes relocating plants and cleaning up books, papers, stray markers and anything else that may look tempting. It's also a great idea to bring a baby or pet gate along with you to keep at the entrance of your office/cube while your pup is there.
4)      Give your dog a bath or have him groomed a day or two beforehand. A clean dog is always appreciated, and will look extra charming in those office photos!
5)      Bring bowls, food and treats. Your dog will get hungry, just like you. Plus, treats can be a good motivator to reclaim your pet's attention if he's excited.
6)      Bring a towel or your pet's favorite dog bed. This will cue her to settle in and relax.
Allow a few extra minutes at the start of the work day to allow your dog to smell the surroundings and get comfortable with the environment. Put out a bowl of fresh water, arrange your dog bed and let your co-workers greet your pet. Once the initial excitement is over and everyone settles down, your dog should too.
Studies show dog-friendly workplaces can reduce stress, enhance employee interactions and boost morale.
Here are some fond memories of past Take Your Dog to Work Days at WellPet—enjoy!:
Q. I have our puppy on Wellness® CORE Grain Free Puppy Formula. She is a  6-month-old Shih Tzu who's doing great on this food. What do you recommend to put her on as an adult and when?
A. The Wellness® CORE Grain Free Puppy Formula is an ideal grain free recipe for a small breed puppy and should work well until your puppy turns one.  At that time you might want to consider switching to the  Wellness CORE Grain Free Small Breed Adult recipe which has the same basic proteins and fat as the puppy diet. Usually adults don't need as many calories as pups, so the Small Breed Adult has less fat and therefore less calories to help your dog maintain lean muscle mass.
June is Adopt a Cat Month. If you've been thinking of adopting a new kitty, June is a good time to choose from frisky kittens to older, more relaxed cats.
Shelter cats are often well socialized because they're around other animals and the staff. They're used to being handled and petted which can translate into being good housecats.
Are you open to adopting a cat with special needs? Sometimes, all that means is that kitty needs a dose of medicine in the morning, a special food or a little extra attention. Your new kitty may have a broken tail or may be missing an eye, but he'll love you just the same! To ensure a good match when choosing your cat, focus on personality rather than looks. Before you go into the shelter, take a moment to think about what type of cat may fit your lifestyle. Are you looking for a high-energy, playful young cat, or a middle-aged snuggle-bug? Which cats do you "click" with? Oftentimes, you'll find that you don't pick a cat, your cat picks you.
How a One-Eyed Cat Found a "Forever" Home
The white cat had been adopted and returned to the shelter twice. It seems cleaning out his eye was too unsavory for many people. The cat reached out to a passing man who stopped to investigate and asked the shelter staff if he could hold him. After multiple visits, he and his girlfriend decided to adopt the pirate kitty who's grown into a sweet belly rub lover.
A Military Deployment Leads to a New Home
In another instance, a woman adopted "Kirby", then found out she was being deployed. Heartbroken, she felt she had no choice but to return Kirby knowing she'd be gone for months. A family of four met Kirby at the shelter shortly after she returned him and fell in love. Now the kitty joins two dogs and another cat to make a happy home.
Some towns have special "cat only" shelters with a variety of available kitties. The staff at these shelters are especially well-versed in all things cat. Of course, no matter the pet shelter, the staff will take care to make a good match. They'll ask you questions and help you choose a cat with the right temperament to fit into your household.
What's your inspiring cat adoption tale? We'd love to hear about it on our Facebook Page.
National Specially-Abled Pets Day is on May 3. It's a day to honor the amazing pets who've braved challenges such blindness, deafness and paralysis, and to bring awareness to the specially-abled pets in need of loving homes.
If you're thinking of adopting, a specially-abled pet may be the perfect fit for you.  Sadly, specially-abled pets are often overlooked at the shelter based on the assumption that they'll require too much care, but so many of these pets have a lot of love to give and an opportunity for a happy life with their new pet parent.
Thinking of Adopting a Specially-Abled Pet? Here's What You Need to Know
The key is to ask questions before you adopt. Find out if the pet needs special medication or surgery or has other ongoing medical expenses. For example, if the condition is expected to worsen and require expensive medical treatment, you'd want to know this so you can be prepared.
You'll also want to learn what type of "pet-proofing" you'll need to do before bringing home your new pet. For example, a dog in a wheelchair will need ramps to get up stairs. A blind dog may need gates to block off stairs and prevent falls.
Can They Play?
If you're considering adopting a dog in a wheelchair, you might wonder how they get around and if they do the things "regular" dogs do like go for walks and play fetch. The answer is "Yes!" Dogs in wheelchairs will love going for walks, playing with other dogs and chase balls as much as any dog.
Likewise, blind or deaf dogs can enjoy runs and even agility training just as much as dogs with great vision. With their strong sense of smell, dogs quickly "map" their landscape and learn where the obstacles are and how to navigate them. Blind dogs can learn certain commands like "step up" to help them maneuver in the world while deaf dogs can learn hand signals.
Specially-abled cats can also make great companions.
As with any successful adoption, the key is learning about the pet's temperament and needs and matching it with yours. You may find specially-abled pets at your local shelter though there are also special rescue groups devoted to finding homes for these special pets. You can check out Pets With Disabilities for listings of specially-abled pets in many areas.
What's your experience with a specially-abled pet? We'd love to hear about it on our Facebook Page!
Q. My dog has a mast cell tumor and I am trying to decide what food is best for her to be on. The vet suggested a low carbohydrate, low grain diet. Is there one you would recommend?
A. High carbohydrate recipes are known to support cancer cells, while a lower carbohydrate diet works to fight  the diseased cells. For this reason, feeding a diet that is lower in levels of carbohydrates is recommended. Wellness CORE Original Formula would be a great recipe to try as it is lower in carbohydrates. Adding additional antioxidants would also be a good idea, one way would be with our Wellness CORE Superfood Protein Bars. I recommend talking to your veterinarian about certain supplements that have been shown to slow the process of some cancers.
Cancer is the most common cause of death for our pets. While a good diet and a healthy lifestyle can help prevent all types of illness, it's best to closely monitor your pet's health in order to pick up on early warning signs of disease.
Diagnosing pet cancer requires a thorough veterinarian and medical testing, however, the following symptoms indicate that your pet may not be feeling well, and may indicate something more serious.
Here are 5 Signs of Illness in Your Pet (Sometimes Cancer-Related):
1—Lumps – As pets age, they will sometimes develop non-cancerous skin growths and other lumps and bumps. While many times these growths end up being benign, they can sometimes be a sign of lymphoma or a skin cancer. A trip to the vet will ease your concern, as your vet will run a needle biopsy or another test if she suspects an illness.
2—Unexplained weight loss – If your pet is losing weight, but his or her diet and exercise patterns haven't changed, you may want to take your pet in for a check-up. Your vet may want to rule out cancer and will help you get to the bottom of the unexplained change in weight.
3—Unusual odors – If your pet has unpleasant odors coming from his or her mouth, ears or anal glands, this could be a sign of cancer in those areas. While these symptoms could also indicate an infection, your veterinarian will examine the areas in question and make recommendations for next steps.
4—Change in bathroom habits—Difficulty going to the bathroom, an increase in bathroom frequency or "forgetting" the approved bathroom locations can be signs that your pet is ill. Keep in mind that a move or other stressful life change can also affect bathroom habits, however it's best to discuss the issue with your vet.
5—Lethargy – If your pet is no longer excited to go for walks or rides in the car, or is sleeping more often than usual,  it's time for a trip to the vet. Any illness is likely to leave your pet feeling less than stellar, so while it may not be cancer-related, you won't know until you go in for a visit.
Remember, just like with humans, diet, exercise and a healthy lifestyle play a role in disease prevention. You have the best chance of catching an illness early and resolving it if you pay attention to changes in your pet's behavior and take him or her to the veterinarian regularly. Early detection can make all the difference.